Click the register button below to be redirected to the Camp registration page.
*** Additional registration information will be required for the camp. Online registration reserves your spot.
CP Camp 2019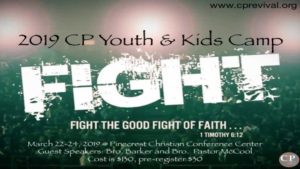 CP CAMP 2019 "FIGHT"
I TIMOTHY 6:12 "FIGHT THE GOOD FIGHT…"
CP Camp 2019 is 3 camps in 1.
CP Kids Camp is for ages 7-11
with activities, lessons, songs and memories of a lifetime!
CP Youth Camp has 2 age groups:
Youth Ages 12-18 and Young Adult Ages 19-28.
CP Adult Camp:
This is for adults only (single over age 28, married or
previously married). This will be a time with Pastor & Sis Pounds
for Day sessions and combined in the night sessions.
Camp Dates: March 22-24


Location: Pinecrest Christian Camp & Conference Center
1140 Pine Crest Rd, Twin Peaks, CA 92391
Friday Checkin:
3pm – 5pm (Dinner is at 5pm and we must be checked in prior to dinner).
Cost:
Register before March 1st: $130.00
Register March 1st or after: $150.00
*** No children under 7 Years old are allowed at camp.